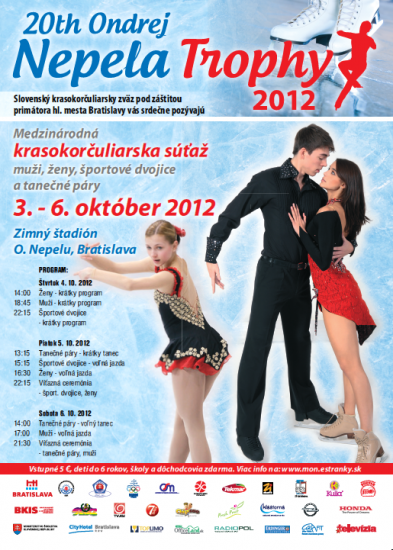 The 2012 Ondrej Nepela Memorial is the 20th edition of the annual event. Skaters will compete in the disciplines of men's singles, ladies singles, pairs, and ice dancing at the senior level. The competition takes place from October 3rd to 6th 2012 in the Ondrej Nepela Ice Rink in Bratislava, Slovakia.
You can follow the Nepela Memorial
here
.
The live stream starts at 14.00 CET with the Ladies' SP, followed by the Men's SP at 18:45 CET
.
The list of contenders is very long.
MEN
1 WEBSTER Mark AUS
2 IONAN Mario Raphael AUT
3 KIEFER Severin AUT
4
REYNOLDS Kevin
CAN
5 GLUHAK Josip CRO
6
VERNER Tomáš
CZE
7 KASKA Pavel CZE
8 STRID Justus DEN
9 RICHARDSON David GBR
10 MATTICK Harry GBR
PARR Matthew GBR s
11 ZANDRON Maurizio ITA
12 MACHIDA Tatsuki JPN
13 MURAKAMI Daisuke JPN
14 RAKIMGALIYEV Abzal KAZ
15 EGUIA Maverick PHI
16 BIALAS Kamil POL
17 IWASAKI Sebastian POL
18 KELEMEN Zoltan ROM
19 DMITRIEV Artur RUS
20
MENSHKOV Konstantin
RUS
BARIEV Ivan RUS s
GORSHKOV Georgy RUS s
21 WALKER Stéphane SUI
22 DEMIRBOGA Ali TUR
23 ARTAN Engin Ali TUR
24 IGNATENKO Dmitriy UKR
GODOROZHA Yakov UKR s
25 GE Misha UZB
LADIES
1 FRANK Kerstin AUT
2 SCHONBERGER Belinda AUT
GRILL Christina AUT S
3 VAN DAELE Kaat BEL
4 PIEMAN Isabelle BEL
5 LIBRIC Mirna CRO
6 VUGEC Franka CRO
7 BREZINOVA Eliška CZE
8 LOBACHEVSKAYA Nastasiya CZE
9 RASZYKOVA Laura CZE
10 PITKäNEN Noora FIN
11
McCORKELL Jenna
GBR
12 ROBERTSON Karly GBR
13
GARLISI Alice
ITA
14
RIO Francesca
ITA
15
RODGHIERO Roberta
ITA
NOGARO Ilaria ITA s
16 NISHINO Yuki JPN
17 MAXWELL Fleur LUX
18 HAMUI Reyna MEX
19 REYES Maria Del Rocio MEX
20 DANO Katherine PHI
21 MICHALEK Anita POL
22
SHELEPEN Polina
RUS
23 KOROBEYNIKOVA Polina RUS
SOTNIKOVA Adelina RUS s
BIRYUKOVA Sofia RUS s
24 GRM Daša SLO
25 GLEŠČIČ Patricia SLO
26 CERIČ Nika SLO
27 SEEH Marina SRB
28 GRAF Nicole SUI
29 LEUENBERGER Myriam SUI
30 KUNOVÁ Alexandra SVK
31 RAJIČOVÁ Nicola SVK
32 SIMANČÍKOVÁ Monika SVK
33 VITEKOVÁ Erika SVK
34 HELGESSON Joshi SWE
35 ATABEY Birce TUR
PAIRS
1 MARTINI Stina AUT
KIEFER Severin AUT
2 BOČEK Martina CZE
BIDAŘ Petr CZE
3
BERTON Stefania
ITA
HOTAREK Ondrej
ITA
4
DELLA MONICA Nicole
ITA
GUARISE Matteo
ITA
5 MARTYUSHEVA Anastasia RUS
ROGONOV Alexey RUS
6
STOLBOVA Ksenia
RUS
KLIMOV Fedor
RUS
ICE DANCE
1 O´BRIEN Danielle AUS
MERRIMAN Gregory AUS
2 PORTER Bruce AZE
PORTER Emanuela AZE
3
WEAVER Kaitlyn
CAN
POJE Andrew
CAN
4 KUBOVA Gabriela CZE
KISELEV Dmitry CZE
5 MYSLIVEČKOVA Lucie CZE
BROWN Neil CZE
6 COOMES Penny GBR
BUCKLAND Nicholas GBR
7 JONES Sophie GBR
BROWN Jordan GBR
8 CARTER Jones GBR
SHARPE Richard GBR
9 JAPARIDZE Otar GEO
TELEGINA Angelina GEO
10 ZHIGANSHINA Nelli GER
GAZSI Alexander GER
11 NAGY Zsuzsanna HUN
FEJES Máté HUN
TÚRÓCZY Dóra HUN
MAJOR Balász HUN
12
ALESSANDRINI Lorenza
ITA
VATURI Simone
ITA
CAPPELINI Anna ITA
LANOTTE Luca ITA
GUIGNARD Charlene ITA
FABBRI Marco ITA
BERNARDI Federica ITA
MIOR Christopher ITA
13 BRUHNS ALONSO Corenne MEX
VAN NATTEN Ryan MEX
14 ZVORIGINA Alexandra POL
BERNADOWSKI Maciej POL
15 KALISZEK Natalia POL
KALISZEK Michal POL
16 BATURINTSEVA Tatiana RUS
NEVSKIY Andrey RUS
17 TESTA Federica SVK
CSOLLEY Lukáš SVK
18 FROLENKOVA Nadezhda UKR
NIKIFOROV Vitali UKR
Source:
Ondrej Nepela Memorial