The Nebelhorn Trophy
is the first senior competition of the season, which will be followed by the
Finlandia Trophy
next week.
But let's start this quick overview of the first day of competition, which includes the men's SP, the pairs' SP and the short dance.

MEN
The men's competition were filled by many falls.
Japanese Nobunari Oda came back after few months of stop caused by a knee injury to place first after the short program. Despite the fall on a quad toe, he nailed a stunning triple axel from a difficult entry and triple flip-triple toe and leads with a score of 79.64 points.




Konstantin Menshov of Russia performed to the music of Pina Bausch. He has been the only one who landed a quad toe in the entire competition and then a spectacular triple Axel, earning 69.30 points and a second place, despite doubling his triple flip.

Keegan Messing is in third place with a triple axel, triple lutz-triple toe (fall on the triple toe) and triple flip with a wrong edge and 68.56 points.


Denis Ten
of Kazakhstan performed to the music from the movie "The Artist." Technically everything was well below his level but interesting choreography left a good impression. As a result, he scored 67.88 points and the fourth result.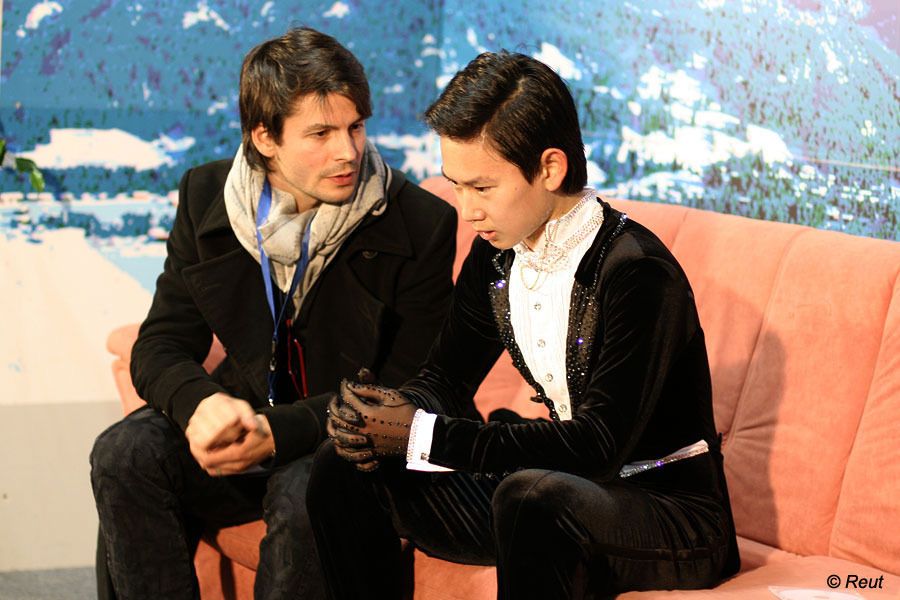 DANCE
The German Nelli Zhiganshina / Alexander Gazsi took the lead with a result of 59.58 points.
The students of Igor Shilband American, Madison Chock / Evan Bates skated very well their Polka, earning 56.97 points and the second place.
Julia Zlobina / Alexei Sitnikov finished third with 56.95 points.
PAIRS
Tatiana Volosozhar / Maxim Trankov (65.24 points) skated to music from the movie "The Godfather". They nailed a beautiful triple twist, a solid throw triple loop, despite one minor mistake: the step-out of Tatiana on the triple Salchow.
Caydee Denney / John Coughlin hold the second place with 57.29 points. Skating to Concerto Aranjuez, they did a good triple twist and triple toe side by side but did a hand down on throw triple lutz.



James/Cypres are in third place just ahead Bazarova/Larionov who fell on the opening triple toe side by side.


Source:
Word Figure Skating
, The wrong edge of figure skating
pairs
&
men
reviews