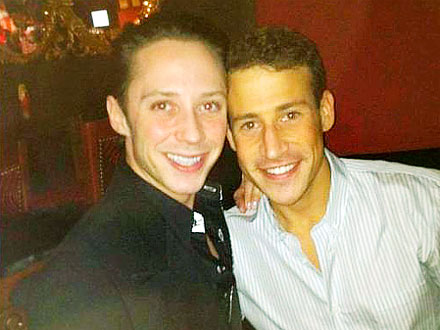 By the way, I LOVE the skin of his Twitter profile. The kibi Johnny is sooo sweet!!
"Johnny Weir, 27, married Georgetown Law graduate, Victor Voronov, 28, in an early morning civil ceremony at the New York City Courthouse on Friday, Dec. 30, 2011," said Weir's rep. "The couple exchanged handwritten vows in the company of loving parents, Tony and Lili Voronov and Patti and John Weir. The couple has taken the new surname, Weir-Voronov, but professionally, Johnny will continue to be known as Johnny Weir."
Looks like Johnny and Victor are having a honeymoon in the Dominican Republic, judging by what Johnny writes on
Twitter
.
"Marrying Victor has been the greatest moment in my life and I will work very hard to make him proud and happy," Weir said in a statement.
He also said, "I am so happy to have found my match. Finding someone to share your life with is one of the most important things a human can do and was preached to me by my mother. Victor is the epitome of a gentleman, as handsome as he is clever and loving. Our road to marriage has been a fast one, but one I never waivered on. I am honored to have been married in the great state of New York, and I hope more states pass laws allowing all Americans to be united through love and marriage."
Voronov says: "Getting married to Johnny has been the greatest experience of my life. He is the most wonderful, caring and nurturing person – and I can be guaranteed of one thing – with Johnny, I will never be bored. The support from my friends and family has been overwhelming and I am looking forward to beginning my life with the most incredible person I have ever known."